Hello Creative Fam!

Happy Lunar New Year! I don't know about you, but here its been a rather slow start to 2022! In the second week of January the virus went through my family, and I've been struggling with fatigue ever since. I'm finally rolling out of hibernation....which actually feels much longer than just a month. If you've been following me for some time you may have noticed that for most of 2021 I was very quiet on my social channels. For the 1st time since 2008 when I started blogging and then on IG since 2011, I chose not to document every moment but rather to sit with myself in a way that was calling loudly to me. Throughout the last 2 years of the pandemic I have felt called (like many of us) to live into my roll as wife and mother more deeply. And in 2021 that's just what I did. I tried as best I could to be present for my family in new conscious ways. My kids are not little any more, I've got two teens of 17 and 14, and my baby is 9 years old! So with my oldest graduating high school next year I felt an urgency to show up in deeper ways for them. Friends, it has been so richly rewarding in ways that I am still learning.
If you are still following along I want to thank you, this creative community means so much to me and in 2022 I am SO excited to get back to painting with you in online classes and on retreats, woohoo!!
As today marks the beginning of the Lunar New Year, the year of the Water Tiger, I wanted to share an article that I found really interesting about the upcoming year, which was passed on to me by one of my besties who is my acupuncturist. Many signs point to 2022 as being an auspicious time for new beginnings, and I'm opening my arms wide to welcome this!
As part of welcoming the new year I created a gift for you, a New Year Workbook, to look back, look forward and dream big! Grab your copy here, to download for free, print it out grab a pencil and get dreaming.
There are a couple of exciting things coming up! The next session of our beloved watercolor class: IN THE FLOW starts February 14th, we currently have the best SUPER EARLY BIRD DEAL happening to save you $120 :) Super Early Bird ends tomorrow February 2nd, so grab it now!

If you feel the pull to join we'd love to have you along with us–– co-taught by artists Mati Rose McDonough and Faith Evans-Sills!

JUST 1 MORE DAY to save: $120 OFF before midnight February 2.

Checkout code: SUPEREARLYBIRD

(code must be used at checkout to receive discount, we can not offer price adjustments after checkout).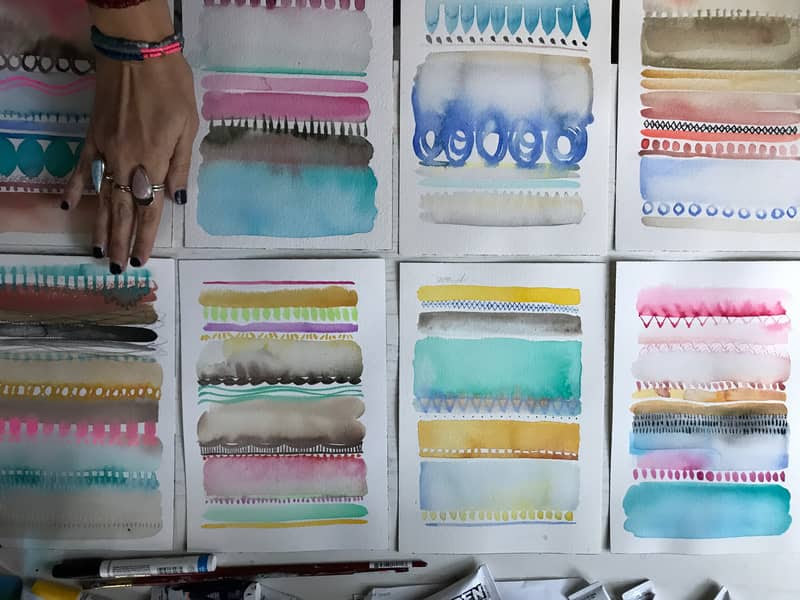 IN THE FLOW: Unconventional Watercolor Adventures begins February 14th and will run for 6 weeks of inspiring daily (M-F) lessons that will take you on a watercolor adventure.
Plus, you'll have forever access to all of the content (and there is a ton of
content) to go back to again and again whenever you feel like you're in
need of that reset!
We will be right there with the class every step of the way!
Reserve your seat in class today


IN THIS E-COURSE WE'LL EXPLORE SO MUCH GOODNESS:
Our tried and true favorite watercolor supplies!
Color Mixing and Color Mapping: ways to play with colors, creating unique combinations. Developing your personal color pallette plus lots of ways to begin a painting!
Finding Inspiration, where to look and how to use what inspires you to create paintings that you love!
Weekly Sketchbook Adventure Exercises: in these deep dives you'll develop new imagery and grow new ideas through fun and playful lessons!
Playing with the paint: how to use the organic elements of watercolor to your advantage to create successful paintings.
Using Contrast in your paintings to create compositions that sing!
Exploring the Language of Shape to develop your own style & personal iconography.
Creating Luscious painted Layers with drawing and watercolor: yes you can layer watercolor for amazing effects!
Bringing it all Together, we'll show you how to combine everything that we learn into a beautiful whole!
and so much more!!!
And last but not least our
Costa Rica Painting Retreat is coming up April 18 to 24, 2022
, and there are just 3 spots left, including the most quiet and private single room on the property! Picture a week surrounded by tropical beauty and creative women, walking on your private path to the beach where every evening we'll watch the sunset, spending your days sinking into lush painting lessons and connecting to yourself and others, eating fresh home made meals....perhaps taking breaks to float in our private pool or to walk around the compound and create a flower mandala. Its going to be amazing, and we have such an inspiring group of woman gathering, will you join us?
Find out all the details here and grab your spot
, those last few spots are sure to go quickly!
Last year's retreat was so healing as we gathered together with a group of women for the first time in person since the pandemic, and this year's retreat is sure to be the same!!

Don't forget to grab our Watercolor class for the best deal:

JUST 1 MORE DAY to save OVER $120 OFF before midnight February 2
Checkout code: SUPEREARLYBIRD
(code must be used at checkout to receive discount, we can not offer price adjustments after checkout).

And please don't hesitate to ask if you have any questions at all. I'd love for you to join us.
Sending blessings and creative inspiration for the journey,
xoFaith